So I am on the rails again. Should be a fun time. I will have a very brief stop in Chicago, then I will continue to Denver and stay there a couple days. Then it is off to San Francisco for an overnight stay. After that, I head down to Los Angeles for another overnight stay. Then it's back to Chicago and subsequently home. Should be exciting, I hope.
The Wolverine as it approaches the Ann Arbor Station. In Chicago, I will be boarding the California Zephyr to Denver. From Denver, I continue on the Zephyr heading to Frisco. In Frisco, I get on the Coast Starlight to Los Angeles. From Los Angeles, it is the Southwest Chief to Chicago and then back on the Wolverine to home.
The lake next to the Barton Dam. I tried to get a picture of the dam, but the sun was right behind it. Oh well.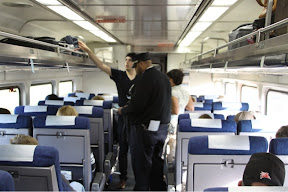 The Conductor taking tickets. This is one of the reasons why I like train travel. It is like a trip back in time. Plus it is way more comfortable than air travel.
I will try to post daily to keep you on my travels and I will do more detailed posts when I am back in Ypsi.
- Posted using BlogPress from my iPad
Location:Somewhere West Of Ann Arbor