I am back on the Wolverine after a brief stop at the Science and Industry Museum. I apologize for the quality of this picture but night photography and moving trains do not work well together.
I will post more pictures either later tonight or tomorrow depending on how I feel when I get home. Unfortunately, they didn't allow pictures on the U Boat, so I will not have pictures of that from the inside but I will have a few of the outside. I won't have many pictures of Chicago itself as I spent most of my time at the Museum but I have a few.
It was a fun day though.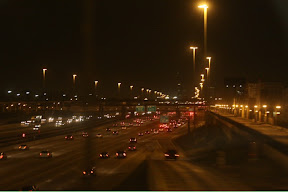 A shot of I-94 as we passed. It seems like this freeway is always busy here.
- Posted using BlogPress from my iPad
Location:Back on the Rails